Preparation time

30 mins

Cooking time

45 mins

Difficulty

Serves

6 people
6 large

1/2 cup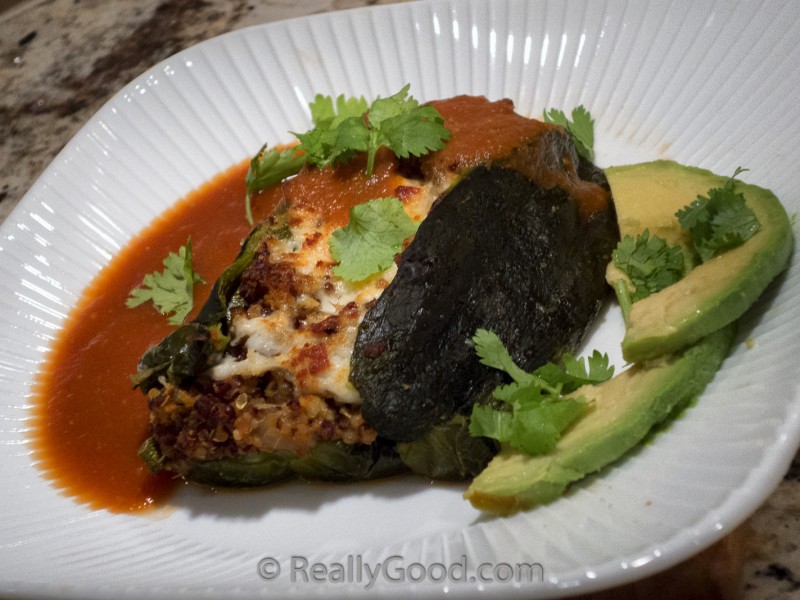 This recipe is a healthier version of a traditional Mexican chile relleno.
The name chile relleno literally translates to "stuffed chile". In traditional Mexican cuisine they are stuffed with meat and / or cheese and dipped in egg batter, or simply corn masa flour, and fried. They are usually served in tomato sauce, but the sauce can vary.
I love the traditional version and have gobbled up hundreds of them. For several years they were my go to order at Mexican restaurants. As I've adopted more healthful cooking and eating habits I came up with a healthier version.
These chiles are baked, instead of battered and fried. They are stuffed with nutritious Mexican Quinoa – Easy One Pan and topped with flavorful cotija chese.
This is also a good recipe to use to with leftovers from Quinoa – Slow Cooker Mexican Style. That recipe makes twice as many servings as the one pan recipe so we always have enough leftover to make this, which I consider to be a very good thing. Since it's in layers just stir it all together while you're warming it up. Also subtract 45 minutes from the preparation / cooking time. I consider also consider that to be a very good thing.  🙂 Here's a picture of the leftovers in a pan prior to mixing. You could also warm it up in a microwave.
Feel free to substitute cotija cheese with your favorite cheese. I just really like the punch of flavor that the browned cotija brings to the dish. It brings a lot of flavor.
Some chiles are seasonal and not available year round. My first choice are hatch chiles, but there is a very short window of time when they are available and sometimes the chiles that are available are too small to stuff. Here in Southern California hatch chiles are available in August and September. Otherwise pablano, Anaheim or pasilla chiles are available in large sizes and work well.
Serve this with Tomato Sauce – 3 Ingredients Mexican Style. That sauce is really good and is quick and easy to make. Black beans or non-fat refried beans are a good side dish. A slice or two of avocado also works well.
Nutritional information provided here was calculated using the ingredients in the recipes for Mexican Quinoa – Easy One Pan, Tomato Sauce – 3 Ingredients Mexican Style, with the nutritional data for chiles, and cotija cheese.

Equipment you need:
Rimmed baking sheet
Tongs
Oven mitts
Bowl – heat resistant
Large spoon for stuffing chiles
Knife
Cutting board
Medium sized sauce pan
Heat resistant spoon
Blender
Preheat broiler. Wash and dry chilies. Place on rimmed baking sheet.

Broil chilies until their skin is browned and bubbling. Turn over and broil the other side. The following picture is of small hatch chiles and not the larger pablanos used when I was taking pictures for this recipe, but the bubbling skin should look similar to this picture:

Transfer chilies to heat resistant bowl and cover. Let sweat for 10 minutes.

While the chiles are resting quarter tomatoes for Tomato Sauce – 3 Ingredients Mexican Style. and add to sauce pan. Simmer on medium heat for 15 minutes. If the quinoa you're using is not already hot then you can heat it in a pan.

Peal skin from chilies. Slice open on one side and remove stem and seeds.

Spray baking sheet with non stick spray. Place chilies sliced side up on baking sheet.

Fill chilies with quinoa mixture. Top with cotija cheese.

Broil for about 5 minutes or until cheese starts to brown.

Serve topped with Mexican Tomato Sauce. Garnish with cilantro (corriander).