Preparation time

1 mins

Cooking time

15 mins

Difficulty

Serves

4 people
7 medium

1 tsp

1/2 tsp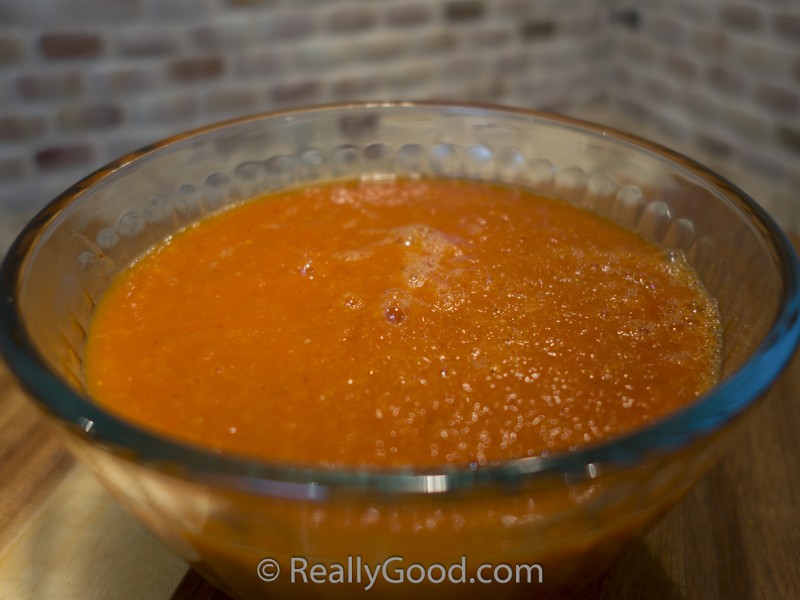 This is a quick and easy 3 ingredient Mexican style tomato sauce that can be served with a variety of dishes.
I usually serve this tomato sauce over our vegetarian quinoa stuffed chilies but it goes really well with a lot of other things. If you're making something simple like chicken breasts or grilled vegetables adding this sauce really adds a lot of flavor. You can use over just about any grilled meat or enchiladas too.
I was surprised the first time I made this sauce because it only uses 3 ingredients, is fat free, took about 15 minutes to make, and has more flavor than other sauces that I've made that took longer and were much more effort to make.
Some people probably would recommend skinning the tomatoes and remove the seeds, but I've got a lazy streak and like to keep recipes as simple as possible. I just quarter the tomatoes and let them cook. It all gets thrown into the blender before serving anyway so I just puree the tomato sauce really well.
Brown Kumatoes work well for this tomato sauce recipe, but I've also used whatever tomatoes I have on hand. Although the kumato website claims that "consumers can rest assured that all the fruits will have the same intensity of taste and concentration of flavour" that has not been my experience with kumatoes. The flavor of the kumatoes I've bought varies just like the flavor of tomatoes really varies. The brown ones have consistently seemed to be the most flavorful of the kumatoes I've tried. Maybe it's the grower or the season or something else, but it really does seem to be that the browner they are the more flavorful they are. Here in Southern California the only places that I am aware of that carry kumatoes are Trader Joe's and Sprouts. They may be available at other stores too but the 3 major super markets that I've shopped at recently did not offer kumatoes in their produce departments.
Equipment you need:
Knife
Small stock pot
Spoon, heat resistant
Measuring spoons
Blender
Preheat sauce pan. Quarter tomatoes. Add cumin and adobo seasoning to pot on medium heat for about a minute stirring frequently. Transfer tomatoes to sauce pan. Simmer over medium heat for 15 minutes stirring occassionally.

Pour contents of sauce pan into blender and puree for a couple of minutes until completely smooth and slightly frothy.

Salt to taste. Serve hot. Makes about 2 cups.