Preparation time

25 mins

Cooking time

360 mins

Difficulty

Serves

4 people
1 1/2 cup

1 tsp

4 cup

16 tsp

1 large

1 large

2 tbsp

6 medium

2 medium

1 cup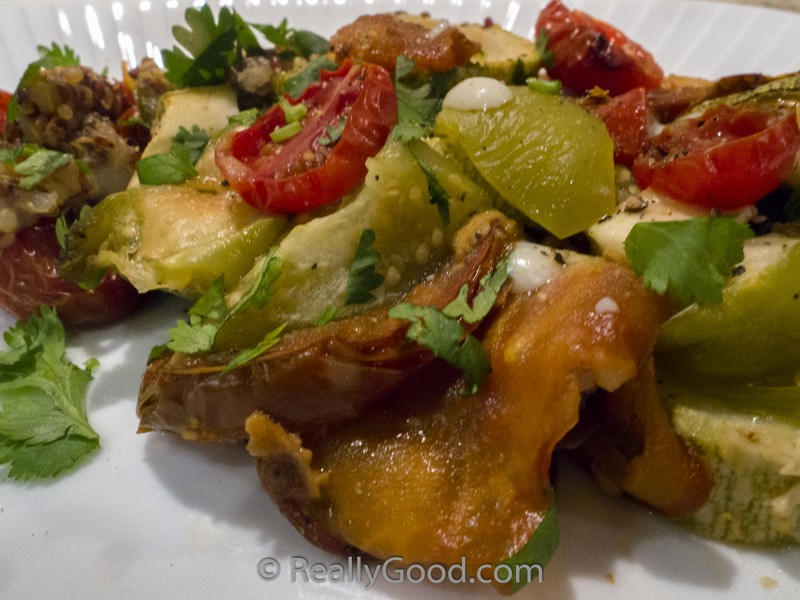 This protein packed quinoa based vegetarian meal features the tang of tomatillos, sweetness of ripe red tomatoes, with the savory flavor of cotija cheese.
I like to try and work quinoa into our meals a couple of times a week. It's a nutrient rich source of amino acids, B vitamins. It is also a rich source of dietary minerals like potassium. It's even gluten free and suitable for those who are lactose intolerant. By the way, if you are lactose intolerant (and not a vegetarian) try substituting the cotija cheese in this recipe with a few roughly chopped strips of turkey bacon. The flavor of bacon works really well in this dish.
Quinoa is available in a variety of colors. White, red, and black are the most frequently available. The differences between their flavors and textures is subtle. White quinoa has a delicate flavor and seems to cook up a little fluffier. It makes a good substitute for rice. Red quinoa has a more substantial texture and holds it's shape better than white. Red has a subtle nutty flavor. Black has an even more dense texture and an earthy nutty flavor. Quinoa is often sold as a blend red and white or black and red. The color blends give quinoa dishes a unique look.
Quinoa needs to be rinsed in the fine mesh strainer prior to cooking. It has a natural bitter tasting coating of saponins. Rinsing it dissolves the saponins and rinses them away.
Tomatoes are seasonal so I often and look the most ripe and flavorful at the time. I also like to combine 2 types for more layers of flavor.  Brown Kumatos are usually available year round and are a good choice for this dish because they hold up well to cooked and have a lot of flavor. Brightly flavored grape tomatoes work well cut in half on the top layer so that their juices drip down through the layers. I use a total of 4 cups of tomatoes. 2 cups of each type to use in 2 different layers of tomatoes.
If you like a spicy kick add diced jalapeno peppers under the top layer of tomatoes. If you don't like spicy food skip the jalepenos. If you plan to use the jalapenos cut off the stems and make sure to remove all seeds before dicing.
Equipment you need:
4 quart slow cooker
Knife for slicing vegetables
Cutting board
Measuring cup
Measuring spoons
Strainer, fine mesh
Slice zucchini and Mexican gray squash in 1/4 inch slices. Yellow squash or another type of seasonal squash of a similar shape and texture are good substitutions. Crumble Cotija cheese to measure 1/3 cup. Cut tomatillos into wedges 1/4 inch at the thickest point.

Thoroughly rinse uncooked quinoa in the fine mesh strainer. Spread evenly on bottom of slow cooker. Add vegetable stock. Sprinkle with cotija and smoked paprika. Make sure to remember to be conservative when sprinkling over the layers. This 1/3 cup of cheese will be used 6 times.

Layer with sliced zucchini. Sprinkle with cotija and adobo seasoning.

Layer 1/2 of the tomatoes. Sprinkle with cotija and smoked paprika.

Layer slices of Mexican Gray Squash. Sprinkle with cotija and adobo seasoning.

Layer of tomatillos. Sprinkle with cotija and adobo.

Evenly sprinkle diced jalepenos if you like spicy food. Otherwise skip the jalepenos.

Top with remaining tomatoes. Sprinkle with cotija and adobo.

Cook on low for 6 hours. Serve garnished with a sprinkle of the remaining cotija, chopped green onion, and cilantro.