Preparation time

10 mins

Cooking time

35 mins

Difficulty

Serves

4 people
4 clove

1 tbsp

1 cup

2 cup

1 tsp

1/2 tsp

1 tbsp

1 tsp

1 cup

1 cup

2 tbsp

1 tsp

2 tbsp

1/4 tsp

1 oz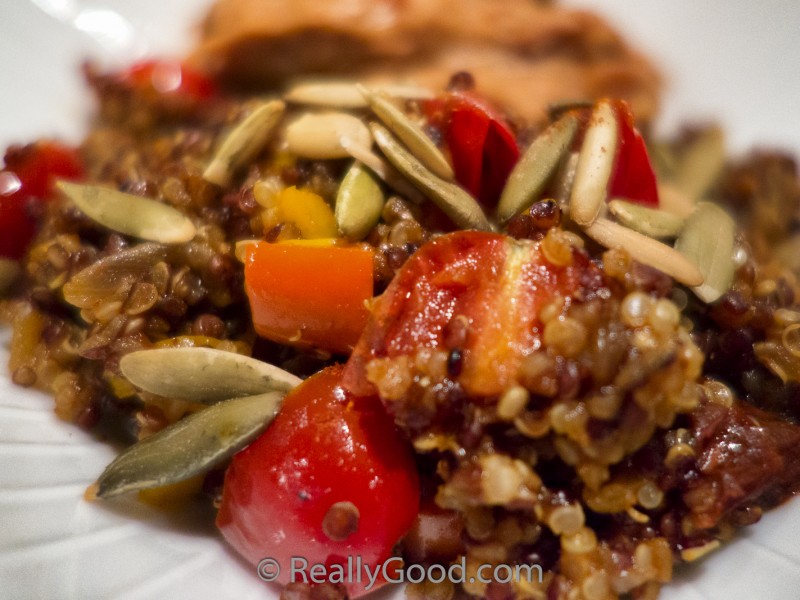 This one pan Mexican quinoa recipe brings rich smokey Mexican flavors to nutrition packed quinoa. A healthy vegetarian meal that is great for lunch or dinner.
An important flavor in this recipe are the canned smokey chipotle peppers in adobo sauce. A chipotle pepper is a smoke dried red Jalapeo chile. The peppers are then marinated in a sauce of paprika, oregano, salt, garlic, and vinegar. These peppers add a wonderfully rich smokey flavor to this dish. I've tried a few different brands and all of the brands I have tried have been pretty good. Some have more heat than others so I suggest that you taste then before adding. That gives you control over the level of spiciness of your Mexican quinoa.
Another important ingredient is the adobo seasoning. I have tried a few different brands of this too. In my experience there are big differences between different brands. I actually wound up throwing a couple of them away because they were too salty and bland. My current favorite is Simply Organic. You can order it on Amazon. I wasn't paid or given anything to make that suggestion. I just like the Simply Organic seasoning blend.
If your quinoa doesn't say it's pre-rinsed make sure to rinse it. Quinoa has a coating of bitter tasting saponins which need to be washed away before cooking. It's common for quinoa to come pre-rinsed, but check the label to make sure.
If you're in a hurry you can skip pan toasting the quinoa. That proces does add a nutty flavor to the quinoa, but if you don't have the luxury of 5 extra minutes just skip that step.
I used a saute pan when taking these pictures. You could also use a sauce pan with a lid.
Nutritional information calculated using unsalted vegetable stock, unsalted pepitas, and 1/4 tsp of salt.
Equipment you need:
Colander for rinsing quinoa – fine mesh
Knife
Cutting board
Measuring spoons
Measuring cup
Spoon – heat resistant
Saute pan with lid
If your quinoa is not pre-rinsed put it into a fine mesh colander and rinse it under running water for a minute or two.

Mince garlic or use already minced garlic from a jar.

Heat olive oil in pan over medium heat until is looks shimmery. Add quinoa, cumin, adobo, paprika, and ground chipotle. Stir for about 5 minutes. The quinoa will make crackling sounds and start to turn light golden brown.

Add vegetable stocka and minced garlic. Bring to a boil. Cover and simmer over low heat. Simmer for 15 minutes.

While quinoa is simmering chop peppers. Cut the strips of chipotle peppers in adobo into chunks. The spiciness of these peppers varies by manufacturer, so taste a little of the pepper. That way you can determine if 2 tablespoons of peppers will be too spicy for you, or if you want to use more.

Stir chipotle peppers and bell peppers into quinoa and let simmer covered over low heat for another 15 minutes. Stir occasionally.

Adjust salt to taste. Serve garnished with pepitas.