Preparation time

35 mins

Cooking time

360 mins

Difficulty

Serves

12 people
16 medium

4 tbsp

3 tbsp

1/2 cup

2 tbsp

6 large

1 cup

1 cup

1 cup

1 tsp

5 cup

32 oz

2 tbsp

2 tbsp

1 LB

1 tbsp

3 tbsp

2 tbsp

1 cup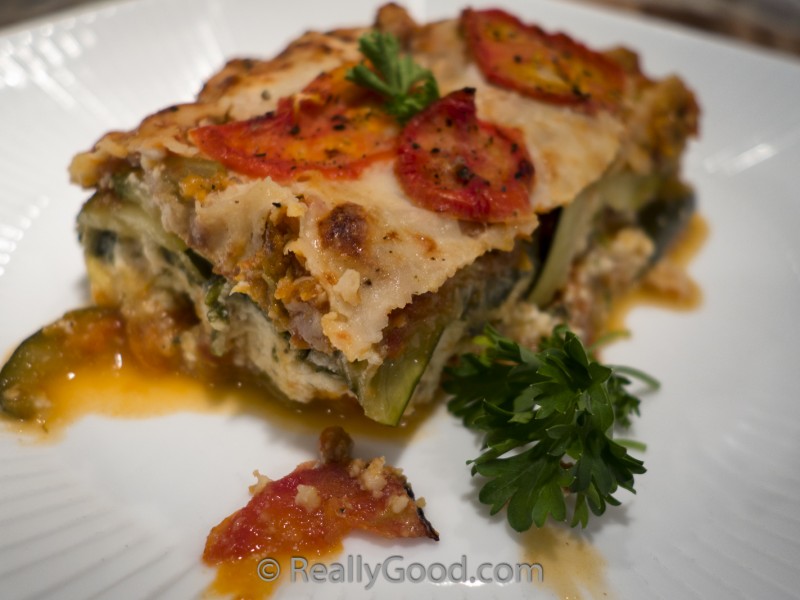 This zucchini lasagna is a delicious and healthful alternative to traditional recipe prepared with noodles.
I love this zucchini lasagna. It's got layers of flavors and textures just like the traditional version. This one is flavorful and much more healthful.
According to the USDA National Nutrient Database a restaurant serving of lasagna averages: 845 calories, 2130 mg of sodium, and 23 g of saturated fat. Compare that with this zucchini lasagna recipe's nutritional analysis of: 339 calories, 569 mg sodium, and 8 g saturated fat.
You can use this same recipe with traditional wheat based lasagna noodles. That will work too, but the calories will be much higher. Compare the calorie counts. A cup of noodles which has 182 calories. A cup of zucchini has 19 calories.
Just like noodle based lasagna this recipe works best when it's best made the day before serving and refrigerated. That way it has a chance to set up and the flavors develop. If you cut it the day it's made it still will taste pretty good but you're not going to get those cleanly cut pieces.
Now let's talk about the importance of using good quality ingredients. I prefer concentrated tomato paste from a tube. It tastes better than the canned variety. For this recipe I also like to use low-moisture part-skim mozzarella. Fresh baby spinach has a better texture. Part skim ricotta has a good creamy texture. You could also use full fat cheeses if that's what you prefer.
I usually use one pound of Italian seasoned ground turkey for this recipe. You could instead use uncased turkey sausage or whatever Italian sausage you like. If you decide to use plain ground meat or no meat make sure to kick up the seasoning to compensate. Adding more garlic and fennel when you're cooking the vegetables is an easy way to turn up the flavor. You may need to add salt too. Season the sauce to taste.
Equipment you need:
Knife
Cutting board
Large bowl for seasoning tomatoes
Large spoon, heat resistant
Rimmed baking sheet
Sauce pan
Mandolin
Blender
Lasagna pan
Oven with broiler
Spatula for serving
Preheat oven to 325 f (163 c). Grate 1/2 cup of parmesan cheese. Quarter 13 of the tomatoes. Set the remaining 3 tomatoes aside. Transfer quartered tomatoes into a bowl and toss with 2 tbsp balsamic vinegar, 2 tbsp olive oil, 1 tbsp of minced garlic, 1 tsp of Calabrian pepper flakes, and 2 tbsp of grated parmesan. Set remaining parmesan and pepper flakes aside.

Bake tomatoes for 2 hours.

While the tomatoes are baking chop leek, carrots, and celery. Use a mandolin to slice the zucchini lengthwise in oblong 1/8 inch (3.5 mm) slices. Slice remaining tomatoes into 1/8 inch (3.5 mm) slices. Stir 1 tbsp basil and 1 tbsp fennel seeds into ricotta. Mince garlic.

Add 2 tbsp of olive oil to sauce pan. Heat until the oil starts to shimmer. Add 1 cup each of chopped leek, celery, carrots. Add 2 tbsp minced garlic, 1 Tbsp fennel seed, 2 tsps Calabrian pepper flakes, 1 tbsp oregano, and 1 tbsp of anchovie paste to sauce pan. Cook for about 10 minutes or until the vegetables are softened.

Add ground turkey to saucepan and cook for about 10 minutes or until turkey is fully cooked.

Remove tomatoes from oven and increase oven temperature to 375 f (191 c). Transfer tomatoes to blender and puree.

Pour pureed tomatoes into saucepan and stir until combined.

Add a thin layer of sauce to the bottom of your lasagna pan. Arrange zucchini slices into a layer on top of the sauce. Layer zucchini slices with 1/2 of the remaining sauce.

Add another layer of zucchini slices. Spread ricotta over zucchini slices. Layer spinach on top of the ricotta.

Layer the rest of the zucchini and top with the remaining sauce. Evenly sprinkle mozarella and parmesan and top with thinly sliced tomatoes. Sprinkle lightly with salt and pepper.

Bake at 375 f (191 c) for 1 hour. After 1 hour turn on broiler and broil for 2 - 3 minutes or until the top is slightly golden brown.