Preparation time

10 mins

Cooking time

40 mins

Difficulty

Serves

4 people
1 medium

1 cup

12 medium

2 tbsp

2 tbsp

1 tbsp

1/2 tsp

1 tsp

1 cup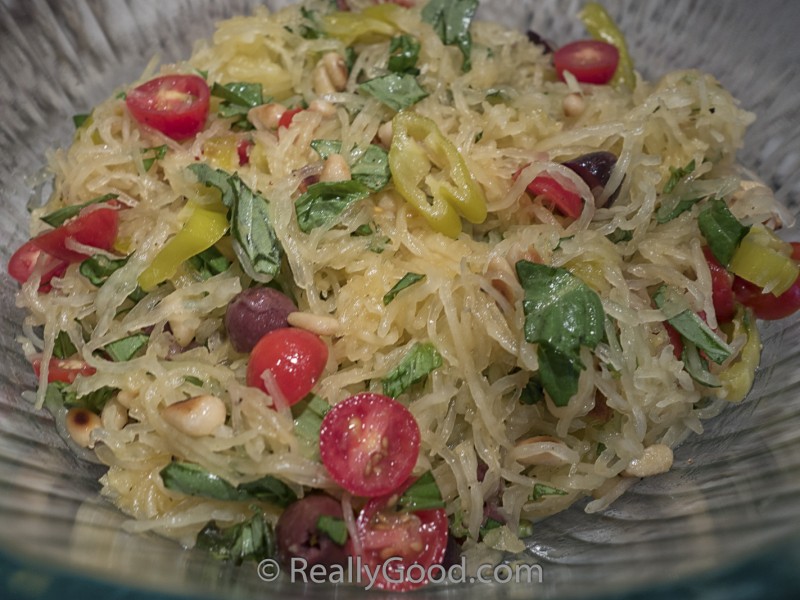 This spaghetti squash salad is layered with really delicious flavors. It's also low in calories and high in nutrients including including folic acid, potassium, vitamin A, and beta carotene.
Spaghetti squash has a very mild non squashy flavor and a really interesting texture. Combining it with the bold flavors of fresh basil, cherry tomatoes, olives, and pepperoncini makes this a very flavorful spaghetti squash salad.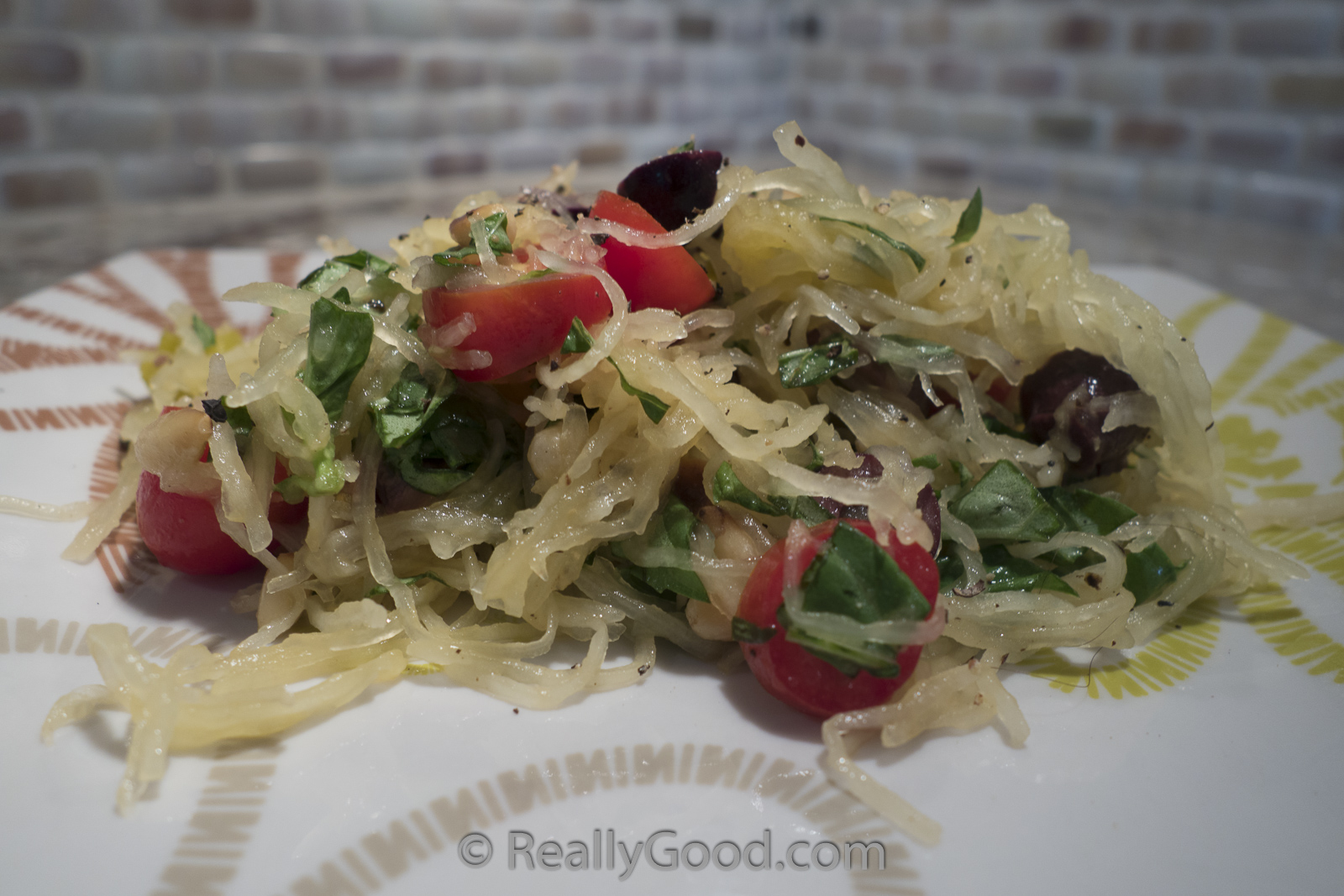 Spaghetti squash is a melon shaped winter squash. They come in colors ranging from ivory to orange. The color of the skin is the same as the flesh inside. The more orange in the skin of the squash means the flesh inside is higher in carotene.
The cooked flesh of spaghetti squash forms tender strands like cooked spaghetti when scraped out with a fork. That spaghetti like texture makes it a really good substitute for pasta in many different recipes.
This squash can also be cooked in the microwave if you are in a hurry. Cut the spaghetti squash in the same way described for the oven baking method. Place the halves cut side down on a microwave safe plate and cover with plastic wrap. Microwave for 8 – 10 minutes, depending upon the wattage of your microwave.  Turn every couple of minutes if your microwave doesn't have a turn table. There is a slight difference in the texture of the microwaved squash, but it is still fine to use in this salad. I prefer the texture of the baked squash so if you have the time and patience that is the cooking method I recommend.
Using fresh basil makes a huge difference in the flavor of this salad. I've made it using only dried basil and it's just not the same. It's okay, just not awesome like it is when made with fresh basil.
Nutritional information for this recipe was calculated using no added salt other than the pinch of salt added to the spaghetti squash prior to baking. Olives and pepperoncini are both salty enough to season the salad. Feel free to add salt to your own taste.
Nutritional analysis was calculated using 4 cups of spaghetti squash divided into 4 servings. 4 cups is the approximate amount in a cooked medium sized spaghetti sqash.
Equipment you need:
Knife
Cutting board
Rimmed baking sheet
Oven mitts
Fork for scraping spaghetti squash
Heat resistant bowl
Measuring spoons
Measuring cup
Large spoon for mixing salad
Preheat oven to 375. Slice 1 inch from both ends of the spaghetti squash. Cut in half lengthwise. Use a spoon to scoop out seeds. Lightly sprinkle with salt and pepper. Place cut side down on rimmed baking sheet. Bake for 40 minutes.

Remove spaghetti squash from oven and scrape the flesh out with a fork. Transfer into heat resistant bowl and place in refrigerator to cool.

Remove basil leaves from the stems and roughly chop. Slice cherry tomatoes and olives in thirds. If the pepperoncini you are using are in big chunks slice them up a bit.

Brown pine nuts in a saute pan over medium heat.

Transfer all ingredients into the bowl with the spaghetti squash. Add olive oil and toss all ingredients together. Add salt and pepper to taste.