Preparation time

15 mins

Cooking time

25 mins

Difficulty

Serves

4 people
4 fillet

8 medium

1/4 cup

1 tsp

3 tbsp

2 medium

2 tbsp

1 tsp

1 tsp

2 tbsp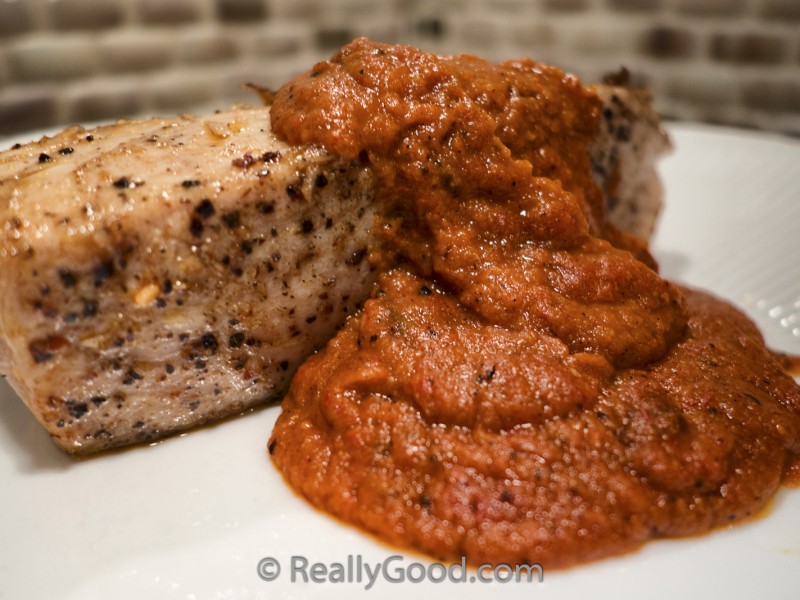 Opah (also known as moonfish, sunfish, kingfish, redfin ocean pan, and Jerusalem haddock) has a firm meaty texture similar to sword fish. The flavor is a cross between tuna and swordfish.
This recipe's tomato sauce layers the flavors of roughly diced ripe red tomatoes, garlic, butter, with white wine vinegar. This lightly acidic buttery tomato sauce compliments the rich flavor of the opah. A substitute for the the diced tomatoes is 2 cups of cherry tomatoes. You can also use whatever tomatoes that are locally in season.
Opah fillets are available in three colors. The meat from behind their head and along the backbone is orange. Orange fillets are said to be the most tender. The belly flesh pales to shades of pink. The cheeks are dark red. When cooked all of these colors of fillets will turn white and have a firm texture.
Locally opah is not often available fresh because the harvest is largely incidental. These fish are solitary, don't school, and are not targeted by commercial fisheries. When I find fresh opah at the market I buy enough to freeze for future use. It freezes well. It can also be ordered frozen from internet fish markets.
SeafoodWatch.org makes recommendations for choosing seafood that's fished for or farmed in ways that don't harm the environment. They rate opah caught in Hawaii a "Good Alternative". Fisheries in Hawaii do not harm other creatures or damage sensitive habitats. SeafoodWatch recommends that you do not buy opah caught outside of the U.S.
The nutritional information provided with this recipe was calculated using a 4 ounce fillet and 1/4 of the tomato sauce prepared with 8 medium sized tomatoes.
Equipment you need:
Saute pan
Spatula – heat resistant for use while cooking
Spoon – heat resistant for use while cooking
Knife
Cutting board
Measuring cup
Measuring spoons
Heat resistant bowl
Blender
Season opah with salt and pepper on both sides. Set aside.

Roughly chop tomatoes and add to saute pan. Gently cook tomatoes on medium low heat with shallots, tomato paste, olive oil, and garlic for about 15 minutes.

Remove from heat and transfer into blender. Blend for about 1 minute until pureed.

Heat the saute pan using medium high heat. Add olive oil to the pan with the residue from the tomatoes. When the oil is heated add the previously seasoned fish fillets. Brown both sides for about about 3 to 5 minutes total, depending on thickness of your fillets. Remove fillets from pan and set aside to rest while you finish the sauce.

Add white wine vinegar into the saute pan to deglaze it. Scrape and stir vigorously to dissolve the caramelized brown bits into the liquid. Continue scraping until you have dissolved all of the browned particles from the pan.

Pour the tomato mixture back into the pan for a couple of minutes. Stir into the white wine vinegar already in the pan and add the butter. Salt and pepper to taste.

Plate the fillets and spoon the tomatoes over the fish. Serve with quinoa, rice or bread to sop up any extra sauce.