Preparation time

10 mins

Cooking time

40 mins

Difficulty

Serves

4 people
4 medium

1 1/2 medium

1 tbsp

1 tsp

1 tbsp

1/2 tsp

1/2 tsp

1/2 tsp

2 medium

1 medium

1 can

1 tbsp

1 tsp

1 tsp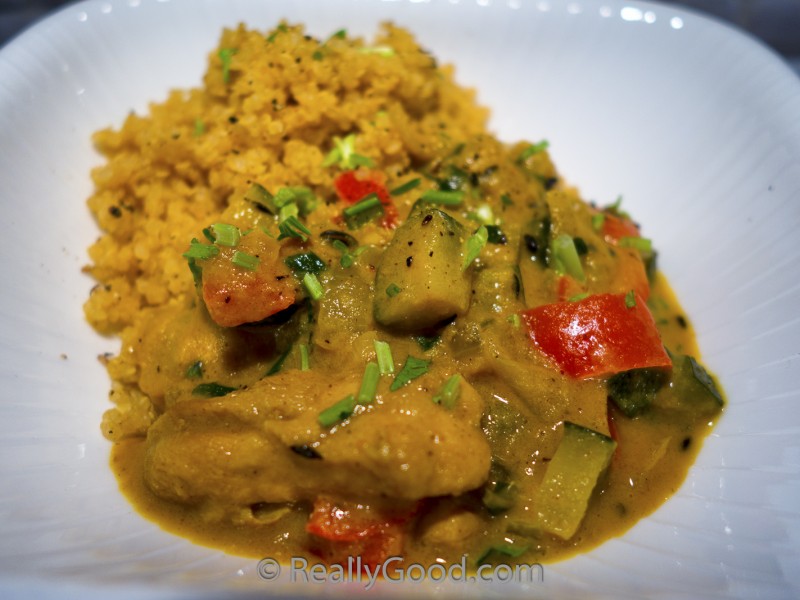 Curry chicken is a versatile dish that can  be made with many different ingredients. This is a basic yellow curry recipe to use as a base. It can be easily adjusted to include other seasonal vegetables.
This curry chicken recipe includes zucchini and red bell pepper because they are readily available year round. If you prefer to eat produce that is local and seasonal you can substitute those vegetables with similar mild flavored produce that is in season in your local area. Potatoes work well too.
The one key ingredient that I do not recommend changing is the coconut milk. I have tried to recreate this recipe many times with lower fat substitutions and found that none of the reduced fat alternatives I have tried work very well. They completely change the flavor and texture of the dish. Be sure to use the commonly available version of canned coconut milk. I seriously do not recommend that you use a reduced fat version of coconut milk for this recipe. Seriously.
I like to use skinless boneless chicken thighs, but you could use chicken breast if that is what you like. Curry can also be made as a vegetarian dish without any meat at all.
I serve this curry chicken over quinoa. You can also serve it over rice or noodles. Whatever you like best.
Curry powder is commercially prepared combination of spices or herbs. The flavor of curry powder, like any other spice blend, varies depending upon what it contains. The most frequently included herbs in curry powder are turmeric, coriander, and cumin.
The curry powder you use will have a big influence on the flavor of your chicken curry. I've tried a few different brands and really like Penzey's sweet curry powder. It has well balanced flavors and allows me to control how much spicy heat goes into the curry. (My own opinion. I was not given free products or paid for this recommendation.) I really like having the option to adjust the level oft spiciness by adding separate hot pepper flakes.
Make sure to taste the sauce as you add the curry powder to determine if you want to use more than is specified in this recipe. If you prefer spicier curry, like I do, that heat is easy to adjust by adding pepper flakes. To make sure that you aren't making your curry too spicy stir in pepper flakes and then wait a few minutes before tasting. This give the capsaicin from the pepper flakes time to distribute evenly throughout the curry.
Nutritional analysis for this recipe was calculated using boneless skinless chicken thighs and is for the chicken curry only. Does not include quinoa, or rice or whatever you decide to sop the curry sauce up with.
Equipment you need:
Knife for slicing vegetables
Cutting board
4 quart saute pan
Measuring spoons
Spoon for stirring while cooking
Cut chicken boneless skinless thighs into 1 inch strips. Lightly sprinkle with salt and pepper. Set aside.

Skin and quarter 1 onion. Add quartered onion qnd garlic into blender or food processor. Puree.

Skin and dice the remaining 1/2 onion. Chop zucchini and bell pepper into 1/4 inch pieces. Chop fresh basil leaves. Chop cilantro (coriander) stems and leaves separately.

Heat olive oil on medium high heat for about 1 minute. Add whole cumin, fennel, and coriander seeds and stir for about 20 to 30 seconds or until they begin to audibly crackle.

Add the diced onion to saute pan. Stir constantly for about 5 minutes or until the onion becomes translucent.

Reduce to medium heat. Add the onion puree to the saute pan with the diced onion. Add curry powder. Stir frequently for 10 minutes or until the sauce starts to brown around the edges

Reduce heat to medium low and add chicken pieces. Cook for 5 minutes. Stirring occasionally.

Add chopped vegetables. Simmer for 5 minutes.

Reduce heat to low and stir in coconut milk. Simmer for 15 minutes.

Stir in chopped cilantro and basil. Salt and black pepper to taste. Usually about 1 tsp salt. Add pepper flakes if desired.

Serve over quinoa or rice to sop up the sauce. Garnish with a light sprinkle of chopped cilantro stems and scallions to add crunchy texture.