Preparation time

30 mins

Cooking time

15 mins

Difficulty

Serves

8 people
12 medium

1 cup

1 medium

1 medium

1 tsp

1 tbsp

2 tsp

3 medium

1 tsp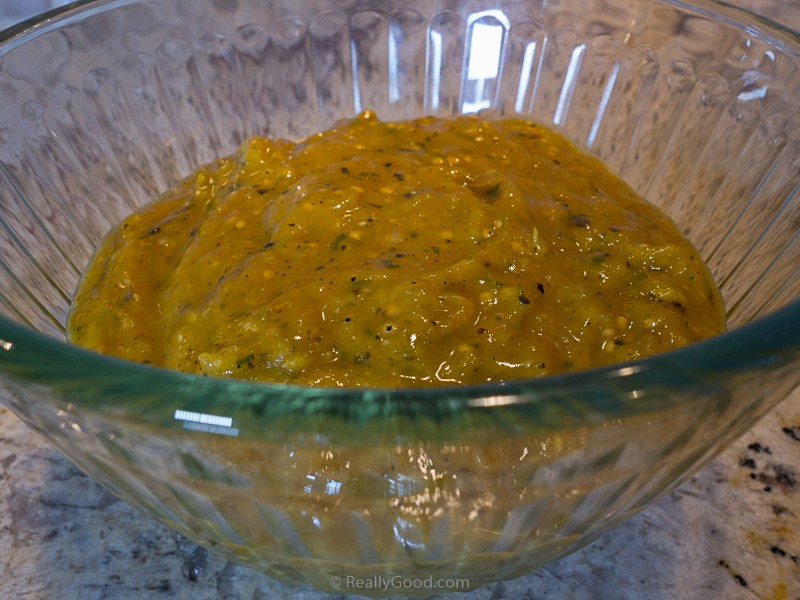 This is a recipe for a very versatile salsa. You can use it as a sauce for enchiladas, chicken, or fish. You can use it as a spread on sandwiches or as a condiment alongside egg dishes. It also makes a flavorful dip for your favorite chips. For a healthy dipping option try vegetables like jicama slices.
The flavors in this fire roasted salsa are developed by roasting the tomatillos, tomatoes, jalepenos, an avocado, a quartered onion, and lime under a very hot broiler. Browning caramelizes sugars and brings out complex flavors. Blending charred skins into the salsa adds a note of smokey flavor.
You can also place the ingredients on a rimmed baking sheet and use a torch to roast them. Roasting with a blow torch is fun, but it can be more time consuming. I find it simpler to use a broiler..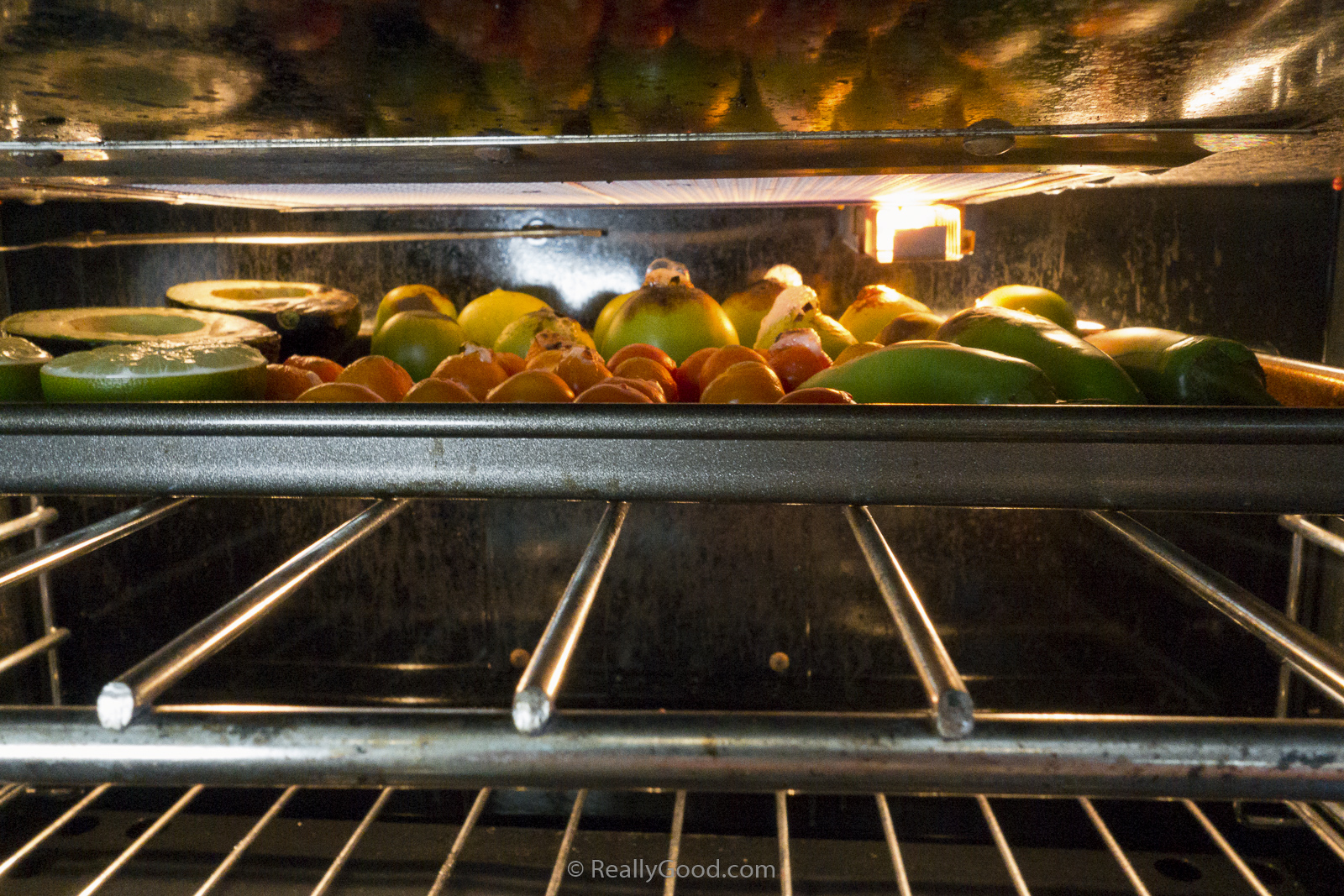 Tomatillos are a key ingredient in this recipe and a staple ingredient in Mexican cuisine. They are also known as Mexican husk tomatoes or Mexican green tomatoes. Here in southern California large grocery stores and Mexican markets usually have them in stock.
When selecting tomatillos there are a couple of characteristics to look for. Small to medium sizes are sweeter and have more flavor than large ones. The condition of the "husk" is a good indication of freshness. Green or light brown and fresh looking husks (not shriveled and dried) are an indication of freshness. The fruit should fill the husks well and be firm with no blemishes or defects.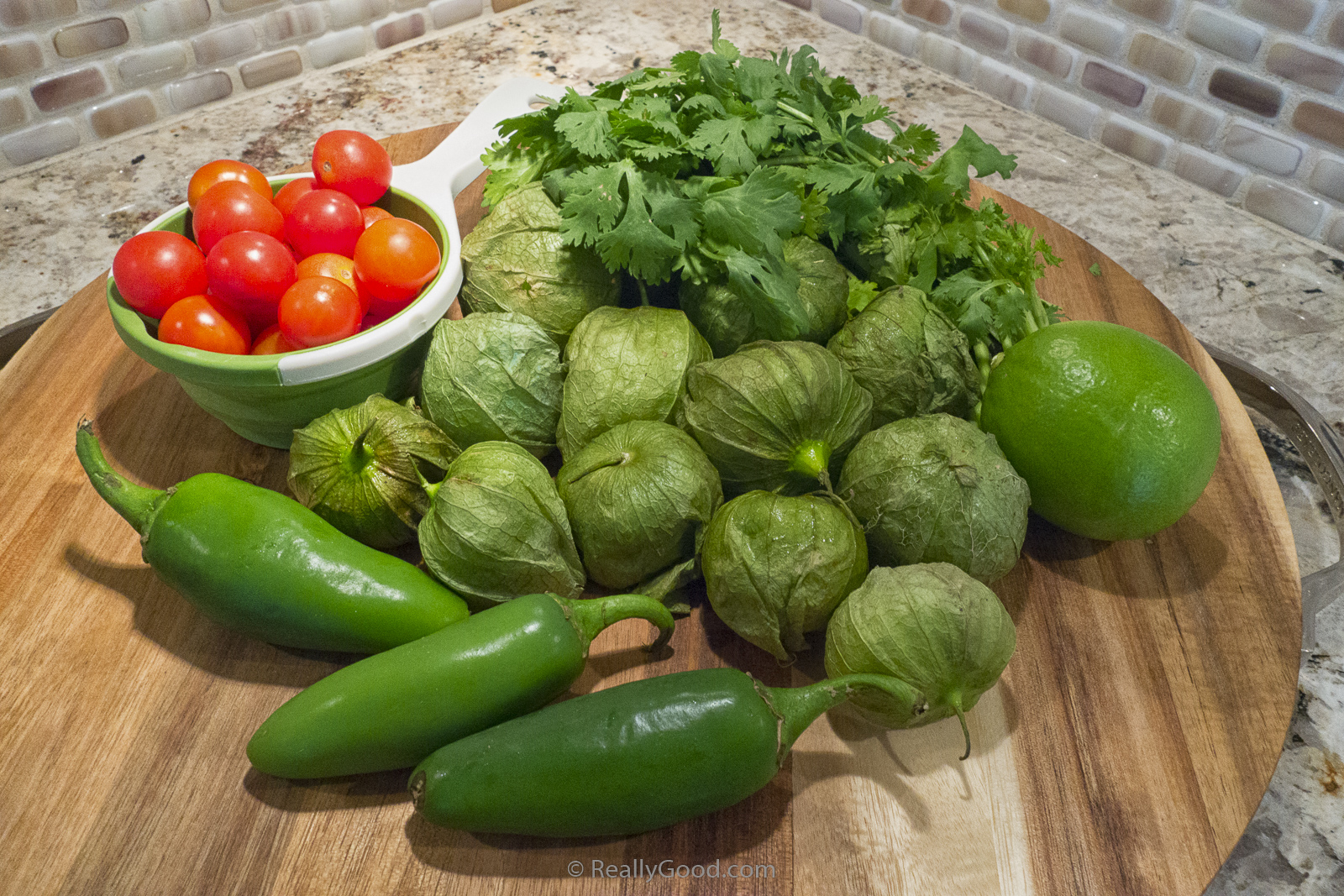 Smoked Spanish paprika adds its subtle smokey flavor to this salsa. Penzey's makes a very good one. (My own opinion, I was not given free products or paid to recommend it.) It is a mild paprika naturally smoked over traditional oak fire. Ground chipotle (smoke-dried jalapeño) is also included to compliment the flavor of the roasted jalapeños.
This recipe makes 4 cups (1 quart) of salsa. Nutritional analysis is calculated using a 1/2 cup serving size.
Equipment you need:
Knife
Cutting board
Rimmed baking sheet
Oven mitts
Tongs
Blender
Measuring cup
Measuring spoons
Heat resistant bowl with cover
Preheat broiler. Prepare tomatillos by removing and discarding the papery husks. The green skin of the tomatillos will be very sticky once the husks are removed so make sure to wash and dry them before roasting. Peel and quarter the onion. Cut the lime in half and take a slice of skin from the round end to flatten it. This will allow the open face of the lime to face upward.

Place tomatillos, tomatoes, jalepenos, onion, and lime on a rimmed baking sheet. Slide baking sheet 4 inches beneath a very hot broiler. Roast for about 7 minutes or until tomatillos are blotchy and browning. Remove tomatoes, avocados, and onions from baking sheet and set aside. Flip everything else over and roast the other side.

Place jalepenos into a covered bowl and set aside to "sweat". This makes removing the skin easier.

Add the quartered onion, tomatillos, tomatoes, cillantro, and the flesh of the avocado into a blender or food processor. Make sure to add any juice from the baking sheet too. Add cilantro and spices. Blend for 3 minutes or until creamy with specks of color. Salt to taste, usually about 2 teaspoons.

Clean the jalepenos by removing the skin, stem, and seeds. The capsaisin level of jalepenos and tartness of tomatillos varies by season. Add the jalepenos one at a time and then taste to make sure you want to add another one. Add lime juice 1 tsp at a time to taste after everything else has been pureed together.