Preparation time

10 mins

Cooking time

20 mins

Difficulty

Serves

4 people
1 LB

1 cup

2 tbsp

2 tbsp

3 tbsp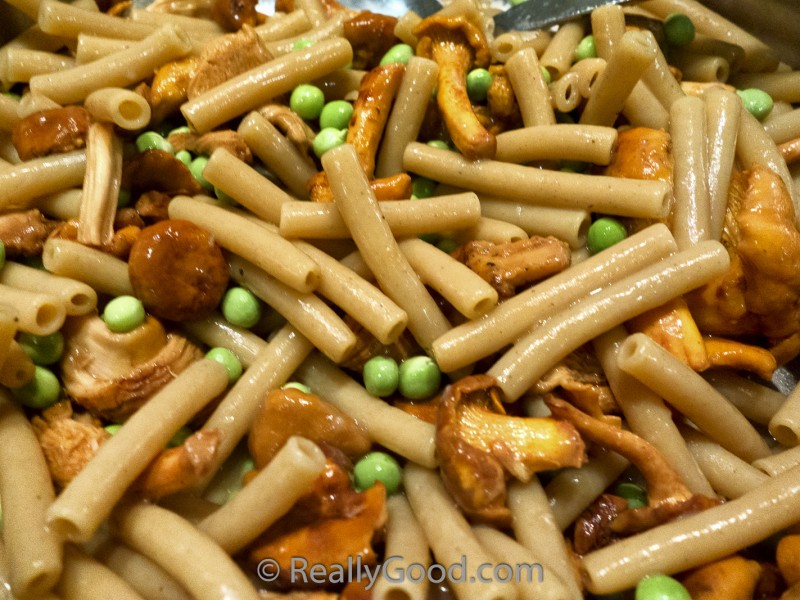 This simple recipe combines the nutty flavor of chanterelles, the creaminess of good quality butter, with the vibrant flavor of fresh green peas. You can also skip the butter and use only olive oil to make a vegan version of this recipe.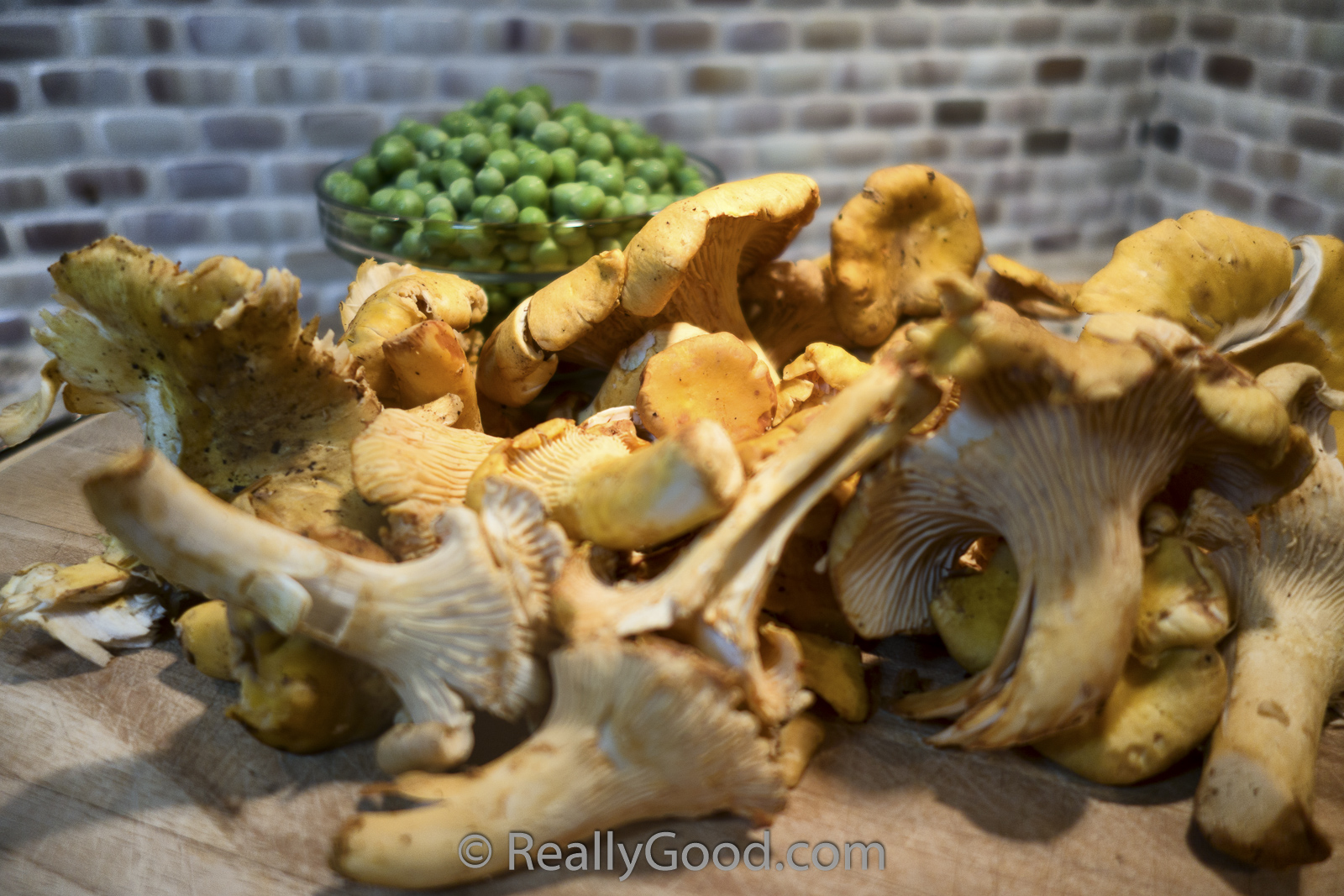 If you are lucky enough to find chanterelles in the market don't hesitate to buy some. Take advantage of your good luck because they aren't always available. They are very easy to cook and really delicious. They are my very favorite mushrooms.
The golden chanterelle is perhaps the most sought-after and flavorful, and many chefs consider it on the same short list of gourmet fungi as truffles and morels. Most of the flavorful compounds in chanterelles are fat-soluble, making them good mushrooms to sauté in oil and butter.
If chanterelles aren't available a good substitute is crimini mushrooms.
This recipe includes fresh English green peas which I buy at Trader Joes. The flavor of the fresh peas is much more vibrant than frozen peas, but if that is all you have available then by all means use frozen peas.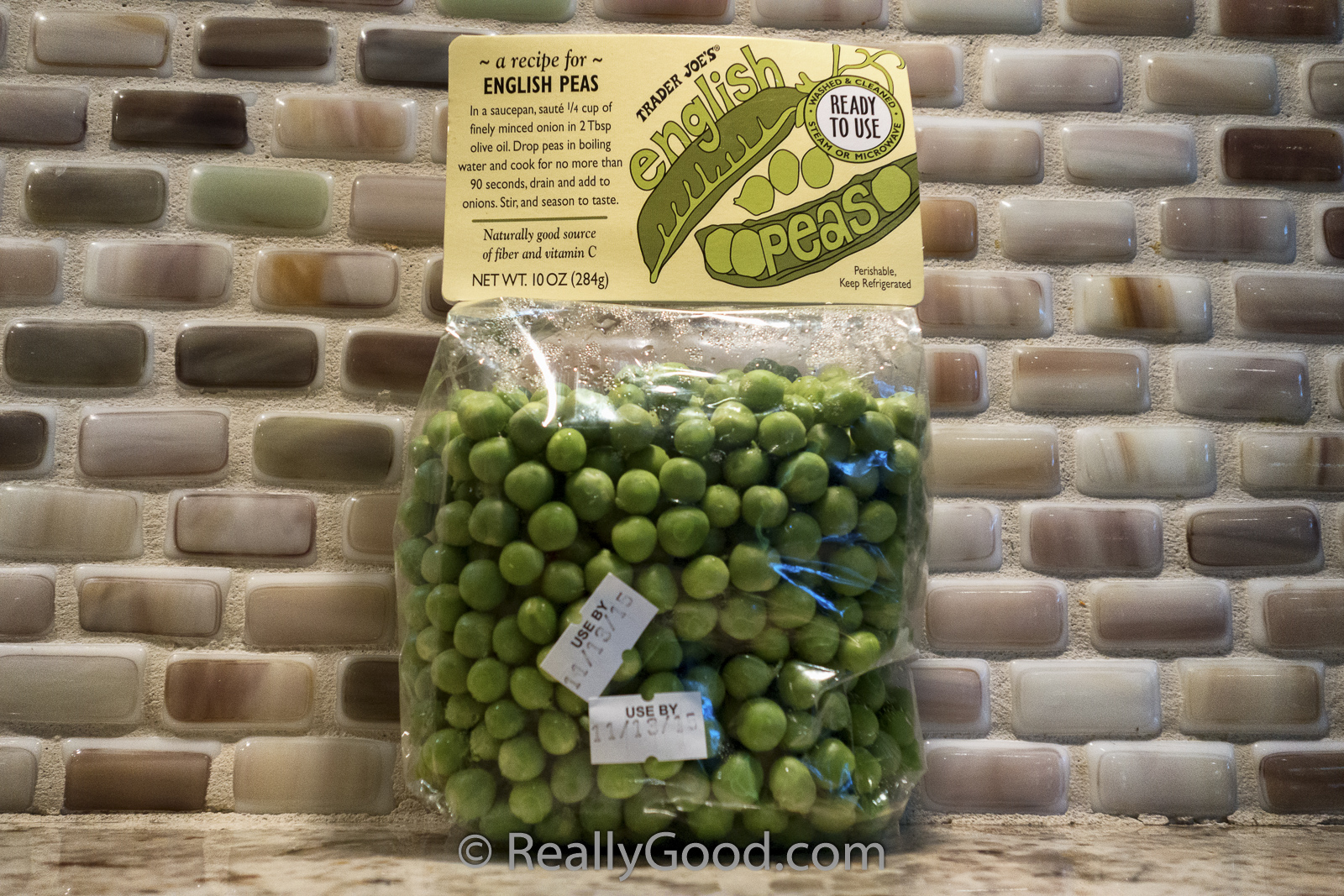 Be cautious of overcooking this dish, which I did just a couple of weeks before I wrote this recipe. I left the whole thing on the burner for an extra 20 minutes while I was jabbering away on my phone. Goodbye deliciousness. Hello mushy falling apart pasta, tasteless peas, and slimy chanterelles. Big disappointment. I've already made this mistake for you so you don't have to make it yourself.
Another mistake I recently made while making this recipe was forgetting to reserve 1 cup of the starchy pasta water. That salty starchy water adds body and unifying flavor to the sauce. If you forget and accidentally let it all go down the drain when your draining the pasta you can use plain old water, but it's simply not as good as using the starchy pasta water.
Nutritional information was calculated using 1 box of penne pasta made from green lentils. That pasta is good and healthy.
Equipment you need:
Sauce pan
Saute pan
Heat resistant spoon
Measuring cup
Measuring spoons
Colander for straining pasta
Cutting board for cleaning mushrooms
Fill sauce pan 3/4 full of water and add 3 tbsp kosher salt. Put pan onto burner on high heat. Cover so it heats up faster and bring to boil.

While you're waiting for the water to boil clean chanterelles and tear them into pieces. They usually have a lot of pine needles so make sure to examine each mushroom and pick off debris.

Add pasta to boiling water. Stir every couple of minutes to keep the pasta from sticking together.

While the pasta is cooking add olive oil and butter to saute pan over medium heat. After butter has melted stir in chanterelles. Cook for about 5 minutes.

Remove the pasta pan from heat. Reserve 1 cup of the pasta water and pour pasta into colander to drain out the rest of the water.

Add drained pasta, fresh peas, and pasta water into the saute pan with the chanterelles. Cook for about 5 minutes over medium heat or until pasta is al dente. Enjoy!