Preparation time

15 mins

Cooking time

30 mins

Difficulty

Serves

6 people
1/2 cup

1 1/4 LB

2 tbsp

2 medium

3 medium

1 1/2 cup

7 oz

1 tbsp

1 cup

1 tbsp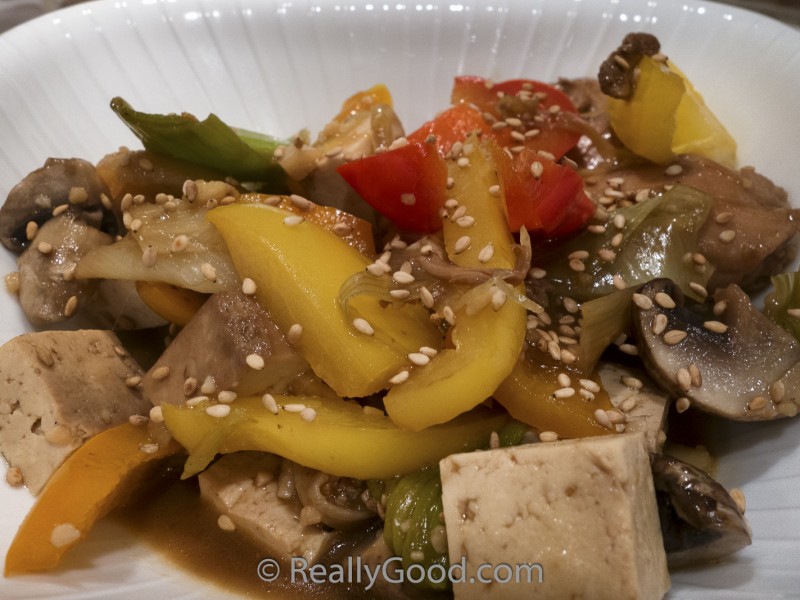 This flavorful dish combines marinated chicken, bell pepper, mushrooms, leeks, garlic, and fresh ginger in a savory brown garlic sauce.
There are a couple of details you need to follow through on to get a full flavored brown garlic sauce. The first one is marinating the chicken thighs. I use Coconut Secret's Original Coconut Aminos Garlic Sauce, which I like very much. This is not a paid endorsement, I just really like that sauce. It's very low glycemic (GI of 35) raw and according to it's manufacturer it's "enzymatically alive" whatever that means. It is also an abundant source of 17 amino acids, minerals, vitamin C, broad-spectrum B vitamins, and has a nearly neutral pH. While I like this product if you don't have it on hand you could always use a 1/4 cup of vegetable broth with a little salt, garlic, and ginger. Just make sure to marinate the chicken thighs in something. I've skipped that step before and it's not nearly as flavorful.
Another thing to be aware of is to make sure that you really brown the chicken thighs to get a lot of brown bits on the bottom of the pan to dissolve into the sauce. Oh yeah, one more thing, don't overcook the vegetables. I like those peppers to have some crunch in them. Serve immediately or the veggies might get a little too wilted.
You can substitute the leeks with onions or scallions (green onions) if that's what you have on hand. If you don't have the baked tofu specified here, or don't like or care about tofu, then don't use tofu. In my experience regular firm tofu is just too crumbly and doesn't add any desirable texture or flavor. Baked tofu has a much better consistency.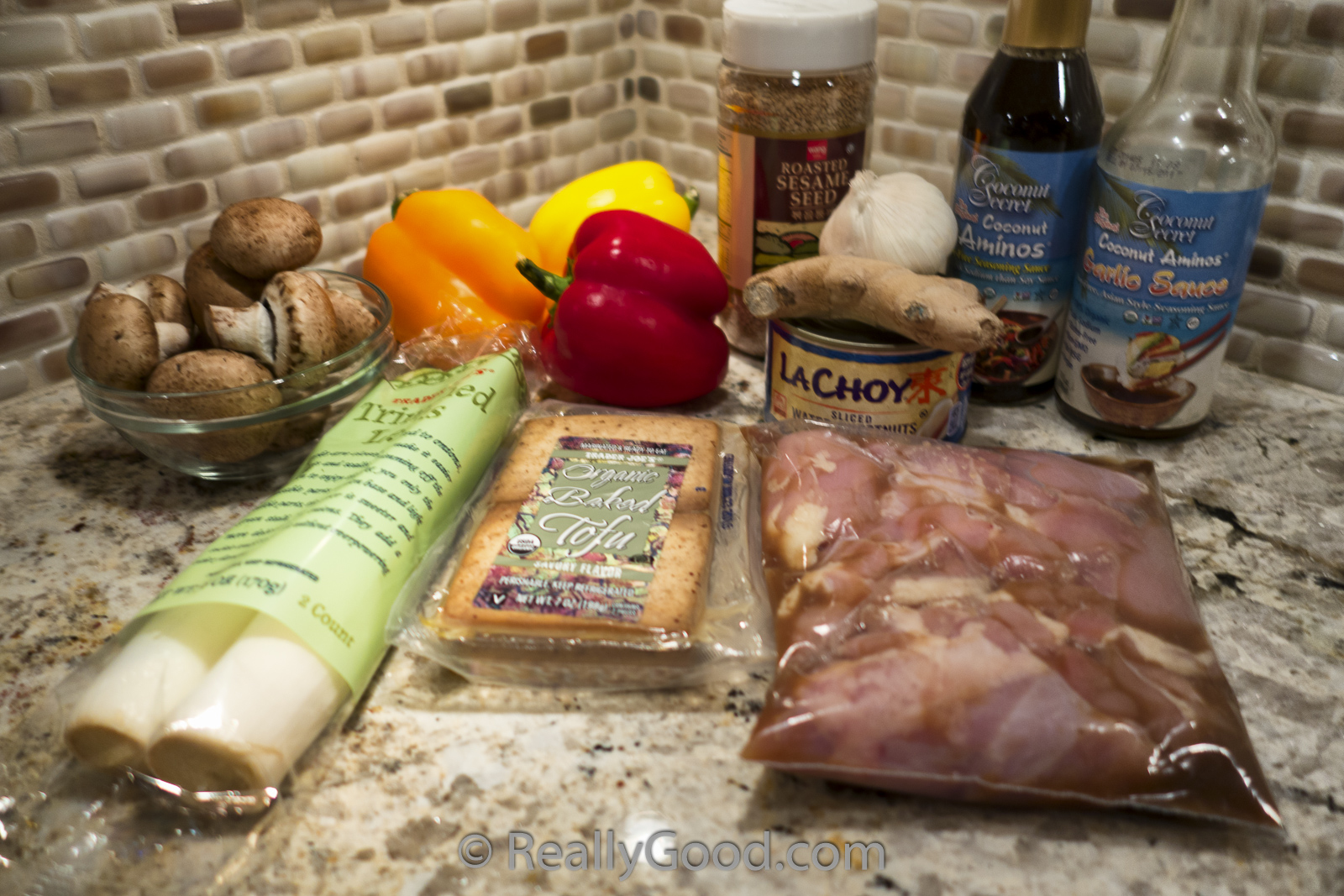 Equipment you need:
Quart size ziplock bag
Knife
Cutting board
Large saute pan
Heat resistant spatula
Put chicken in a one quart zip lock bag. Add 1/4 cup Coconut Garlic Sauce. Marinate for a minimum of 3 hours. Longer is better.

Heat large saute pan over medium heat. Add 2 tbsp oil to heated pan. Tilt pan to evenly distribute oil. Add chicken thighs and liquid from the bag they marinated in to saute pan.

Cook thighs on medium heat for about 5 minutes or until the liquid has been reduced to brown bits and the chicken is beginning to brown.

Add 1/4 cup Coconut Garlic Sauce and minced garlic to saute pan. Stir to dissolve the browned bits into the sauce.

Increase heat to medium high. Add leeks. Stir for 2 or 3 minutes until the leeks start to wilt.

Add remaining ingredients and stir over medium high heat for about 5 minutes. Sprinkle with sesame seeds and serve immediately.