Preparation time

2 mins

Cooking time

25 mins

Difficulty

Serves

4 people
14 can

10 can

1 tbsp

1 tbsp

2 tbsp

2 tbsp

2 tbsp

4 oz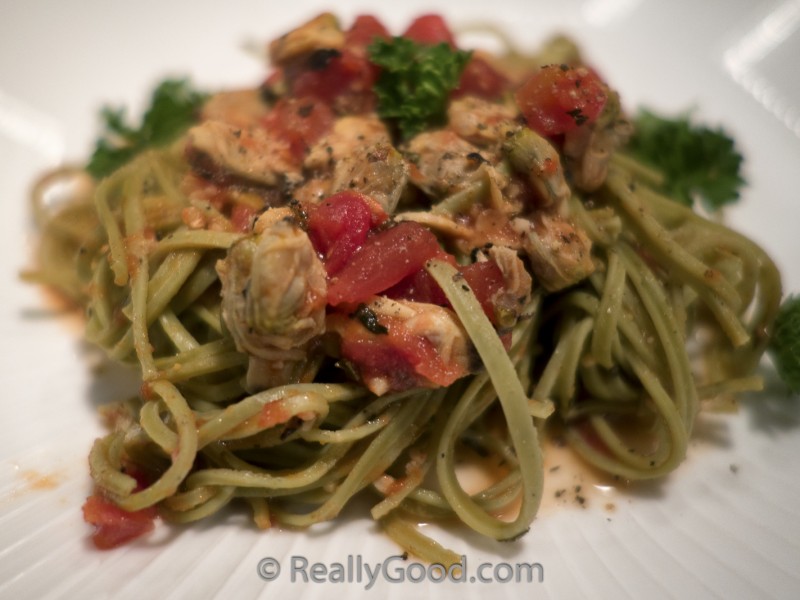 Baby clam tomato sauce with edamame spaghetti (or your favorite pasta) is an easy, and delicious meal.
This baby clam tomato sauce takes less than 30 minutes to prepare. It has the full flavor and presence of a major time commitment and labor of love.  While the labor of love is still there the time and effort to prepare such a good dish is not required.
Clams are a good source of a number of nutrients, including iron, vitamin B12 and vitamin C.  Clams are also a low fat source of protein. They are savory and explode with flavor.
For the clams we used a 10 ounce can of baby clams that are boiled and packed in water and of course they are already out of their shells. You will want to empty the entire contents of the canned clams, including the juice, into your pan for the full impact of their flavor. There are many brands so choose the one you like. Tomatoes, tomatoes, tomatoes… We used a can of Muir Glen Organic Diced tomatoes that were fire roasted, a 14.5 oz can. You again have the flexibility to use whatever kind of diced tomatoes that you like.
We serve this baby clam tomato sauce with organic edamame spaghetti but you can use the pasta of your choice such as linguine, angel hair, spaghetti or penne types of pastas.  Personally for this dish I prefer a thinner pasta such as a thin spaghetti or angel hair pasta.
This one fantastic meal that is easy to prepare in a short amount of time.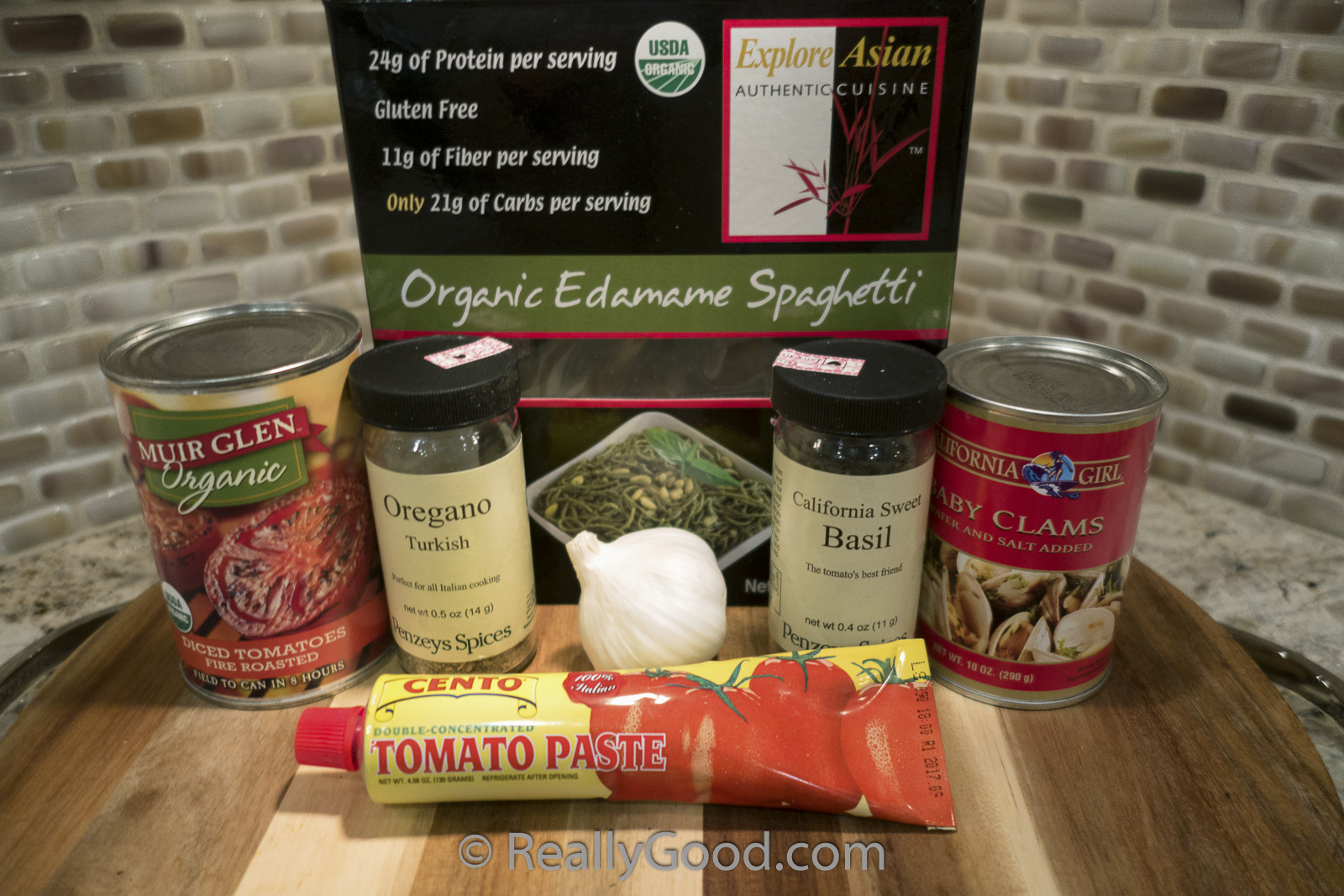 So those with little time to cook can rely on this meal to be your quick, simple, and delicious meal time solution. The results seem like they take a lot more time and effort than they actually do.
Equipment you need:
Medium saucepan
Medium pot
Large heat resistant spoon
Colander
Start with warming the olive oil on low and then add garlic and tomato paste. Stir for a few minutes being sure not to over brown the garlic.

Empty diced tomatoes into the pan with oregano and warm on medium low heat. Add can of baby clams after a couple of minutes.

While clams and tomatoes simmer. Start a pot of water over high heat to cook the pasta. Add salt to water and bring water to a boil. When the water is boiling cook until pasta is almost al dente. Drain reserving 1 cup of liquid.

Add pasta, reserved cooking liquid, and basil to pan with the baby clam tomato sauce and continue to simmer for another 5 to 10 minutes until pasta is al dente (firm to the tooth). Serve right away.