Preparation time

10 mins

Cooking time

360 mins

Difficulty
Meal course

Posted by

Posted on

February 1, 2016
1/2 LB

3 medium

1 head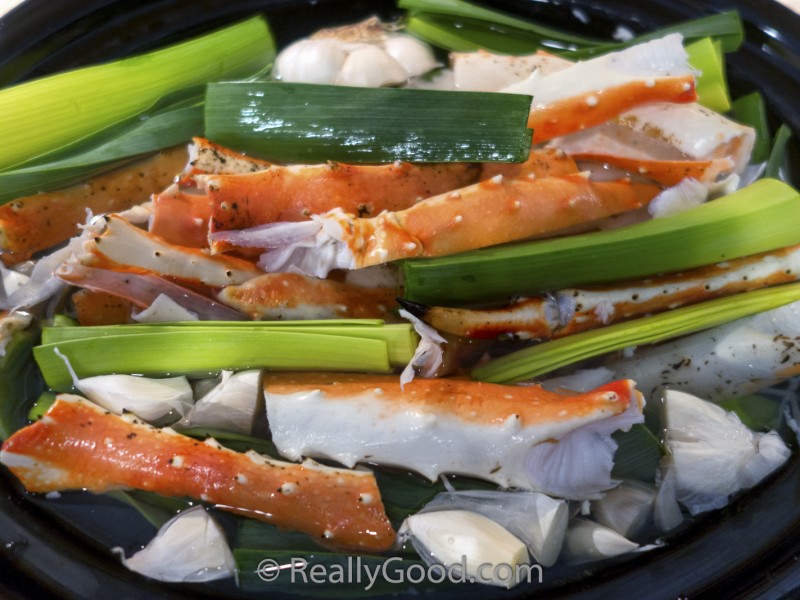 Ever buy crab legs? Don't throw away the shells. Freeze them. Crab leg shells can be used to make an easy and delicious slow cooker crab stock.
When Costco has a seafood roadshow we often splurge on a couple of gigantic Alaskan king crab legs. After we're done eating all the meat we toss the shells into a gallon freezer bag and put them in the freezer. We save them up until we have 3 or 4 full bags of shells. That's enough to make batch crab stock in a 6 quart slow cooker. It's a great way to make something free and really tasty from shells that we used to throw away.
Same thing with the green tops of leeks. Toss them into a freezer bag and put them in the freezer to use later to make stock. That's another thing that we used to throw away. Now we save them to use later to add to stock.
I like to make slow cooker stocks because it's easy and I've got a lazy streak. Tossing ingredients into a pot and waiting works for me. Just so you know you can probably use these same ingredients to make this stock in much less time in a pressure cooker. I haven't tried that and my pressure cookers are smaller then my slow cooker so it would make less stock but would require fewer shells. I haven't tried this. Just throwing the idea out there. 😉
If you're feeling fancy you can use this stock to make bouillabaisse. I usually opt for the faster and easier without so many carbs recipe. I usually make seafood soup with saffron with this stock (recipe to be posted soon).

Equipment you need:
Slowcooker – ingredients listed are for a 6 quart
Knife
Cutting board
Colander – heat resistant and large
Heat resistant bowl – very large
Fill slow cooker with crab leg shells, leek tops, and head of garlic sliced horizontally. Add cold filtered water and set to low temperature. Cook on low for 5 hours.

Add a sprig of fresh thyme. Cook for 1 more hour on low.

Strain.